[rz007] AleX Tune - Dream That I Saw 2009
Artist: AleX Tune
Name: Dream That I Saw
Date: 31.01.2009
Style: Hardcore
Label: RusZUD Net Label
Format: Free Net-release (MPEG2)
Bitrate:Audio:Video: MPEG2 Video 720x480 (16:9) 29.97fps 4200Kbps
Info:
AleX Tune born in Odessa, Ukraine, 28 october 1983. In 1999 first time started producing hardcore, acid, hartrance tunes. In 2004 started DJing, playing different hardcore styles from early rave to terrorcore. In 2006 together with DJ Belkin founded the biggest all over Ukraine hardcore promotional group - Bangin' Beats Promo. In 2007 was first time released on compilation of russian net label RusZUD. Today most like playing and producing uptempo Hardcore, Speedcore, Breakcore.
DOWNLOAD
ROBOTIK-SPEEDCORE-KILLERS-PRODUCTIONS presents:
[RSKP007]V.A.Born 2 Be A Killer(part-1)(2-CD-MP3-ALBUM) compilation
--------------------------------------------------------------------------]=-
Name: V.A.Born 2 Be A Killer(part-1)
Catalog #: RSKP007
Format: File,MP3,compilation
Bitrate: 192Kbps
Released: 10-12-2008
genre(styles): SPeedcore,VaaGuhCor3,KLP 521 42 inc,Hardcore,terror,experimental,splitter,Extratone,noise(core),Grindcore
( Read more... )
KLP 521 42 inc. - DreamLand
Speedcore\Terrorcore mix

Artist: KLP 521 42 inc.
Name:
DreamLand
Date: 26/10/2008
Style:
speedcore,terrorcore,gabber,industrial
Format: net-release (mp3)
Bitrate: 320kbps, Stereo


unlimterror.net/blog/2008-10-26-9
THIS FRIDAY:
Buzzlife presents- Save The Bees, a monthly event to benefit research going towards preventing bee extinction. This will be held at the RNR Lounge.
* * *
THIS SATURDAY:
Buzzlife & 9:30 Club present- Steve Lawler. View
www.djstevelawler.com
for DJ details.
* * *
NEXT TUESDAY:
Buzzlife presents- Firecracker!
This event will be huge!
Buzzlife has rented the entire Fur nightclub for its pre-4th Holiday party! All levels will be hosted by Buzzlife! Tickets are availble online now, and I suspect that this event will sell out.
TUESDAY, JULY 3RD, 2007
Tickets on sale now – groovetickets.com/buzz
Main Arena
DJ DAN
[djdan.com | In Stereo Recordings | DJ Magazine's
#5
DJ in the World]
DJ ICEY "Disco Rodeo Tour"
[Moist Music | Zone Records | FL]
STARKILLERS aka Nick Terranova
[Star 69 | Terratraxx | Spinnin' | Ultra | myspace.com/starkillers | myspace.com/nickterranova]
SCOTT HENRY
[[Buzz | buzzlife.com | DC]
DnB Arena Hosted by Upfront Industries
DJ MARKY
[Innerground Records | Brazil]
APHRODITE
[Aphrodite Recordings | djaphrodite.com | UK]
MARCUS INTALEX
[Soul:R | UK]
BOBBY JAE
[Upfront | DC]
Mafia Room
TITTSWORTH
[Tittsworth.com | T&A Records]
Matt Nordstrom
[xjR EU | Sleaze]
Bob Jong Ill
[Upfront]
Section 8
[Upfront | Exit Only]
Mink Room
Ramiro
[Give | Transit | Ethereal Imbalance| DC, VA]
Catalyst and Charly C
[Five Cent Jive Cartel | Strangelandrecords.com | Buzzlife]
DJ Tony B
[Nuvo Music | Myspace.com/djtonyb | DC/LA][/font]
Fur Nightclub
18 & over
NO DRESS CODE
Tickets on sale now!
THIS WEEKEND:
__________________________________
Gaian Mind - Outdoor Music Festival
Official Events Websites
Presenting the 6th Annual
GAIAN MIND SUMMER FESTIVAL
~ Summer Solstice ~
Thursday, June 21st to Sunday, June 24th, 2007
Four Quarters, Central PA, USA
Join us for four days and three nights of Transcendental Dance in the open air – truly, a magical event which has quickly become an annual summer tradition for the global Trance Tribes! Now in its sixth year, the Gaian Mind Summer Festival has hosted world-class international talent from Australia, Brazil, Canada, Denmark, France, Germany, Indonesia, Italy, Japan, New Zealand, Sweden, Switzerland, and the United Kingdom, plus the finest regional talent in the USA, becoming a destination for hundreds of dancers from all over the world. The gathering includes a full weekend of spiritual dancing, tribal drumming, lectures and workshops, yoga, sweat lodge, swimming, relaxation, and much more in a sacred, sylvan sanctuary that only Four Quarters can provide.
I am just finding out more info, figured I would share what I found.
TONIGHT:
________________________________________
Five Spot @ Club Five
________________________________________
Charles Feelgood's Going Away Party
This is a big deal! FeelGood is one of the best resident DJs Baltimore had, and now he's going-going back-back to Cali-Cali.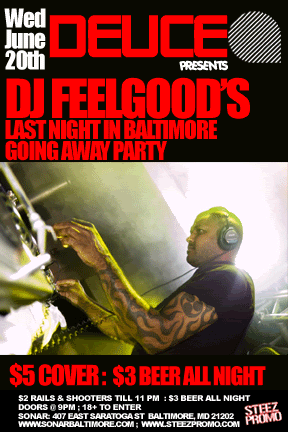 21+ TO DRINK
18+ TO ENTER
DOORS OPEN 9PM
SONAR
407 E SARATOGA ST
BALTIMORE MD 21202
WWW.SONARBALTIMORE.COM
________________________________________
I didn't know if there was a point to continuing with this Community. I'm not good at rallying members, although I guess I can always spam other communities? But anyway, there are 3 of us now and that's better than one!
Hey, I'm jenny. new to LJ. i love trance, raves, drugs, the usual. Anyway, intro posts suck. I'm gonig to a badass event this month and so should you.
District Ignition and Panorama present
Markus Schulz for GLOW at FUR
Where:
FUR Nightclub - 33 Patterson St NE, D.C.
When:
10pm - 2am
Ages 18+ - Casual Dress Code
</a>
TAKEN DIRECTLY FROM THE DI MYSPACE INVITE:
First, when you indicate to the clipboard girl (her name is Kristen...say hi...) that you're on the District Ignition List, you'll get in for FREE (21+) or reduced (18-20) before midnight. After midnight, you'll still get in for $5 off ($15 total for 21+, $20 for 18-20). Since we'll be working the lines outside, we'll be able to verify that you're on the list and hand you your free/reduced pass before you even get through security. So, even if you get in line a little on the late side and security is really slow, you won't get screwed at the door by making it to the ticket window at 12:05. Don't wanna wait in the line? Don't! The DI Guest List means you'll be able to skip straight to the "cuts" line that is always much, much shorter than the general admission line.
One of us stunningly handsome DI guys will also be outside with a magical DI stamp. This stamp will allow you to get exclusive access to the District Ignition Lounge located above the Arena (Main Room) dance floor in an area that was once referred to as the "Non-Smoking Mezzanine". You can see and feel everything going on in the main room without the hassle of being bumped into and accosted by random pervs--a definite safety zone for anyone that has ever had their ass grabbed @ FUR. What's more there's a bar right there where you can almost always walk up and be immediately served. Please note, that if the turnout in the main room is on the light side, we won't be able to actually open the DI Lounge. We will push for it to be opened every week, but in cases when it's not, you'll be able to find a strong DI contingent at the bar immediately to the right of the DJ booth, underneath the mezzanine.
For now, this list is separate and distinct from our normal DI list that you may have signed up for to go to SNATCH or FUSION, so the best way to to get access is to email
glowlist@districtignition.com
You should receive a confirmation email back within a few hours of your submission to the list. If you don't, please hit me up via AIM (ramseyja13) or PM me here... We have had a few instances with some email providers marking districtignition.com email as spam, so you might have gotten the confirmation back sitting in your junk box... Check there and ensure that we are on your safe recipients list to avoid this issue in the future...
SATURDAY, JUNE 2ND - D.C.